COMPACT SNACKS
Designed and manufactured to make optimal production in the simplest way.
The snack is deposited in a hopper that through vibrators sends the product to the fryer. The fryer sinks the product and transports it. All of it is controlled by an electrical panel.
The belt that collects the product is made of metal mesh to facilitate draining and transport, it also has a spout to turn the product.
For productions of 100 k / h of fried snacks. Electrical (without resistors in oil)
Clean, simple and very practical.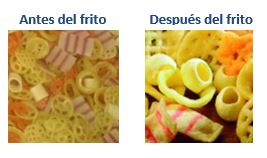 Video Snacks: