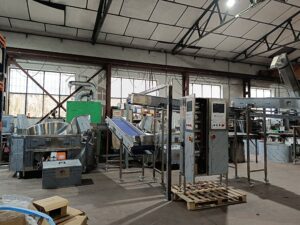 Trainomaq has established itself in the food sector both nationally and internationally, we are specialists in production lines for snacks.
We are currently working on this line for Spain, with two fryers, a distribution line, weigher and hood.
In addition, we have other projects in hand that we hope to be able to show you later on.
As you can see, the lines are assembled and supervised in our workshop located in Fuenlabrada (Madrid) in order to carry out the assemblies as quickly and smoothly as possible, which is why many of our customers decide to assemble the lines themselves, as we provide them with all the information necessary.
Trainomaq is a seal of confidence and guarantee.
For more information visit our website, where you can see: peelers, cutters, fryers, conveyors, weighers, flavouring machines, hoods, shakers, vibrators… complete lines.