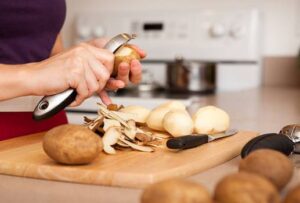 No more wasting time peeling potatoes. Whether with knofe or peeler, this common task in recipes as typical as Spanish omelette and fries, requires a good investment of time that increases depending on the number of potatoes used. Happily, this little culinary 'odyssey' comes to an end thanks to a chef's trick posted on TikTok.
@thatdudecancook, a TikTok user specializer in gastronomic content, shared on his profile a method for peeling potatoes that is equal parts efficient and simple. His 4.1 million followers on the social network viralized the video, which reached 46.600 'Likes'.
The technique is simple. It consists of sticking a fork into a potato and going around thepotato while peeling it progressively from top to bottom with a peeler. Finally, the fork is removed from inside and the top and bottom of the potato is peeled. As a result, in just a few seconds, the potato is peeled. Its creator defined teh formula as 'the best potato trick ever'.
How to make the most of this potato peeling trick?
For it to work perfectly, it is advisable to do it with medium or large potatoes. With smaller ones, its effectiveness is reduced, since the peeler's stroke from to bottom is shorter.
It is also recommended to stick the fork in at a considerable depth. This ensures that food is firm while the skin is being removed.
Information obtained from: https://maquinaria-alimentacion.es/el-truco-para-pelar-patatas-en-pocos-segundos/